Online classes
Due to the current pandemic, all face-to-face workshops and events are canceled/postponed until further notice. In the meantime (and probably continued afterwards) I offer weekly online classes: www.flyingmonkey.eu/online-sessions
If you interested in my output, but not willing or able join a live class, you can also get some recorded classes on request.
May you all be happy and healthy. May we all be able to play and hug again soon 🙂
---
Upcoming workshops
CURRENTLY NOT HAPPENING UNTIL FURTHER NOTICE.
Workshop that are not clickable links yet, will be online soon. Subscribe to the newsletter to stay in the loop.
---
Festivals and Retreats
---
Featured events
… that we are most likely going to happen

with Vero (Ohlala Yoga)
Yoga / Meditation / Massage
22. – 28. Sept 2020
@Gravito – permaculture center in the heart of Portugal
Find all details here: www.flyingmonkey.eu/2020/04/13/moving-into-presence-retreat-2020/
---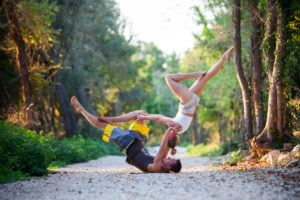 mit Mangalam Yoga
2. – 4.10.2020
Schloss Freiberg, Steiermark, Österreich
Infos und Anmeldung hier: https://www.mangalam-yoga.com/akro-partneryoga.html