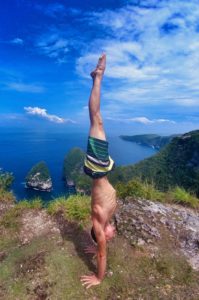 It is summer and we want (and should) go outside instead of spending time on a screen. So online classes are paused for now. Maybe there will be some hybrid classes in August (offline in Munich + online for people in other locations). If you are interested in that sign up to the newsletter.
Until then you can get recordings of my past classes for 8€ per class (75 minutes) on request. Send me a message to choose which topic you are most interested in and receive the link.
---
Online classes have established as a great way to move together with people across the globe.
Currently there are no events scheduled. For privates please use the contact form.
---
I (just like most people) had quite some reluctance against online classes at first. But online classes actually also have a lot of benefits as well:
No traveling times to get to a studio.
We don't need to pay the rent for it, so classes can be a bit cheeper.
We can train and move with people from all around the world.
And we can record classes. So you can watch the replay or just practice whenever it fits your schedule.
I saved the best recordings of the past sessions ("Movement & Mobility", "Handstand" and "Guided Thai-Yoga-Massage") . If you are interested in my classes or a specific topic, contact me for a link to the videos.
---
Apart from the live classes, you can also book me for a personal taining/coaching or to receive a Thai-Yoga-Massage.
---