"Touch is before sight, before speech. It is the first language and the last, and it always tells the truth." M. Atwood
And it is a universal language, regardless of culture or intellectual background.
For me it started as a way out of mainly intellectual and aloof interaction with the people around me. It had a quite therapeutic effect on me at first, and the more I learn about it the more it becomes a passion.
Now I am very happy to share this passion by working with others.
Did you ever fall asleep while receiving a massage? Maybe you didn't even know the masseur, but it just happened? Well, in any case let me tell you, this happens a lot! Just the act oft receiving some nice touch and soothing movements makes it very easy to surrender and let go (which is exactly what we need to do to fall asleep).
A massage can have therapeutic effects even if the primary goal is just a nice relaxation time, as touch is such a powerful interaction. But I have to make clear: I am NOT A THERAPIST! This is a term clearly defined by laws and regulations, and I have no certification as a therapist.
If you have some aches, it may result from tensions in your body, I will try my best to reduce those and help you to relieve. But please check in with a doctor or other healthcare professional if you have severe or recurring or chronic pain or symptoms.
So here is what I offer:
Thai-Yoga-Massage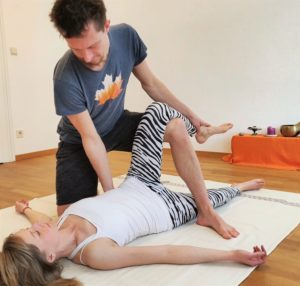 In this form of massage practitioner and receiver dive into a dance of movements, acupressure, stretches and twists, as they sink into a meditative state of flow and sensing. Other then in e.g. Swedish massage, it uses less muscular effort, but rather gravity and leverage. For that reason it is also not practiced on a table, but rather on a mat on the floor. Originally offered by the monks, it is also seen as a spiritual practice, allowing the practitioner to sink into a meditative state, making space to connect with intuition and sensing the needs of the receivers body.
Flying Bodywork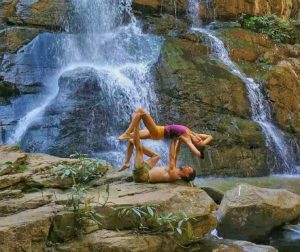 In this unique form of bodywork the receiver can experience almost weightless floating on the feet and hands of the lying masseur. The comforting feeling of being carried allows us to sink into a state of deep relaxation and trust. Gravity does a great job in naturally extending the spine and decompressing joints, while the practitioner massages and stretches the muscles and fascia.
My qualifications
As with most things in my life, I did not choose a particular style or school to study and later represent this style, but rather learned from many different teachers to create my own style.
The predominant type of bodywork is clearly Thai-Yoga-Massage, as that is how I started my journey into bodywork, learning mainly from Ishine Gape, but also various other teachers like Krishna Takis, David Lutt, Markus Ras, and many more.
I did the traditional Thaimassage foundation course in the Sunshine School in northern Thailand (Chiang Mai / Lahu Village) twice (with Kalin and Andi), as well as an advanced course on "Body assessment, treatment and rebalancing" with Mike Tan. Furthermore I studied Chi Nei Tsang (abdominal massage) with Remco van de Visch and Integrated Cranial Biodynamics with Rosemary Wallace.
I also want to mention that my mother is a Feldenkrais practitioner. So this was definitely a source of motivation and inspiration throughout my life as well.
Apart from all that, big portion of my skills is not due to a specific teacher, but rather to exchanges with various practitioners over several years (since 2012).