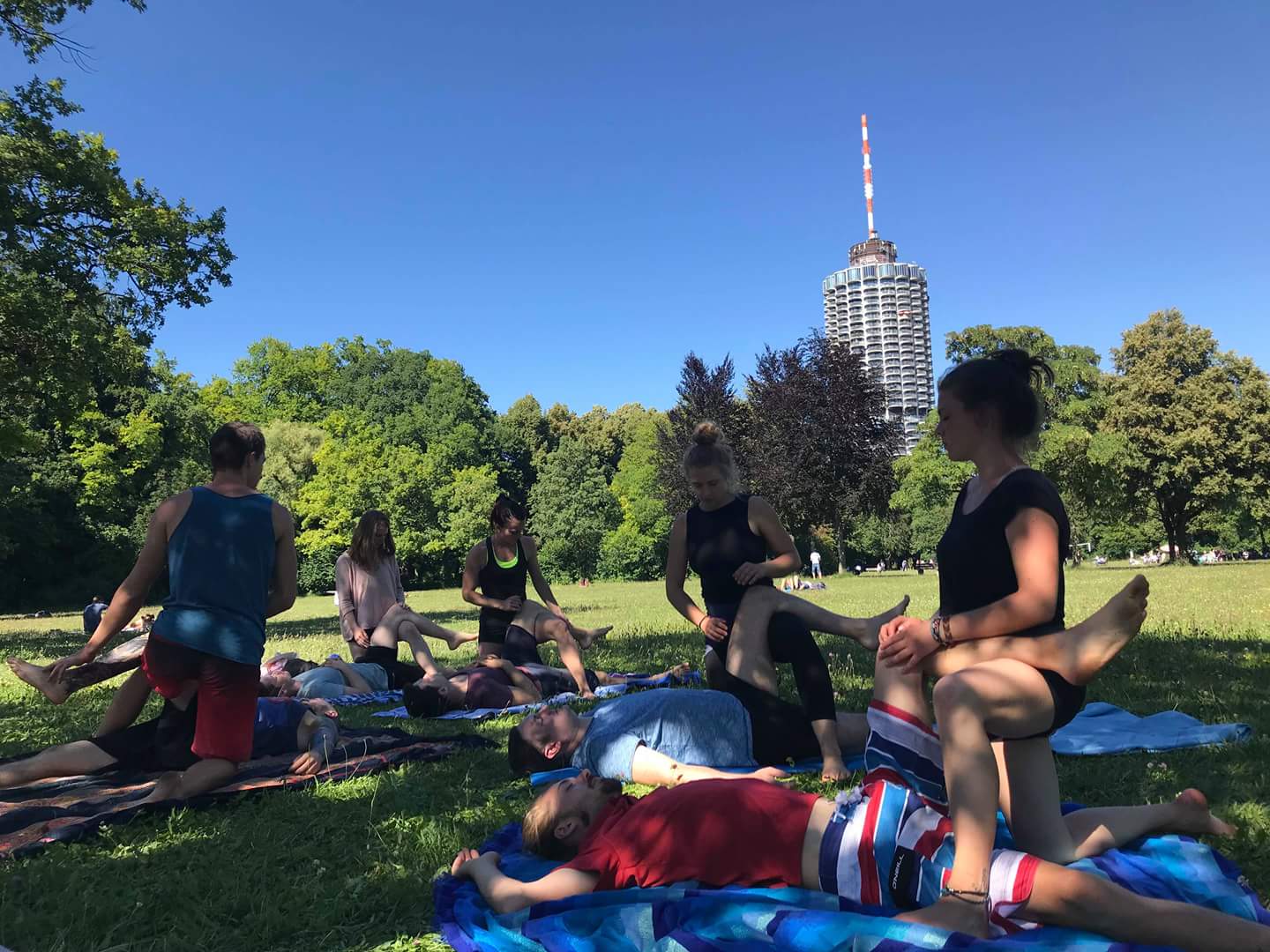 A number of people have asked about more guided Thai-Yoga-Massage sessions. So here we go.
It is so lovely outside and during the holidays very hard to predict if enough people join each week to rent a room.
So I want to give it a try outdoor in the Hirschgarten.
This Tuesday 6:30 – 8:30 pm CET I will guide you through a sequence twice, so both of you get to receive and give.
(Read more about TYM below).
It is of course perfect if you come with a partner, but you can also sign up alone, and I will try to organize couples then (and I will also need someone to demo on 😉 ).
No previous experience required.
Please bring your own mat and some blankets.
Please use the sign-up form below, so I can send you the exact location a few hours before the session.
If you would like to join online, please contact me via the contact form below.
About Thai-Yoga-Massage
In this form of massage practitioner and receiver dive into a dance of movements, acupressure, stretches and twists, as they sink into a meditative state of flow and sensing. Different from e.g. Swedish massage, it uses less muscular effort, but rather gravity and leverage. For that reason it is also not practiced on a table, but rather on a mat on the floor. Originally offered by the monks, it is also seen as a spiritual practice, allowing the practitioner to sink into a meditative state, making space to connect with intuition and sensing the needs of the receivers body.
Costs
The suggested donation for the session is 10-20€ per person. However, if you are in a financial difficulties atm you can also join for less.
Thank you for supporting and appreciating my work!
Paypal: paypal.me/MitoMonkey
Bank transfer:
Michael Flohrschütz
IBAN: DE10 2004 1133 0400 5955 00
Registration
Please use this link if the embedded form doesn't display correctly/fully: https://form.jotform.com/200972456337358
---
I wish you all the best and look forward to a great session together!
---
Contact form if you have any questions: