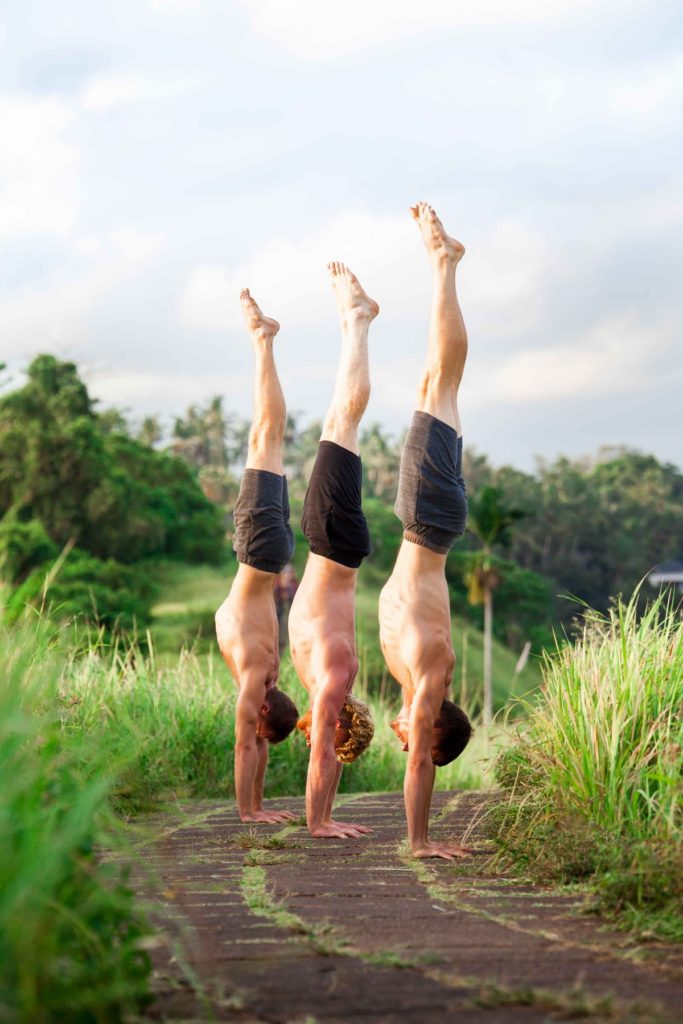 Handstand is not just a fascinating challenge because it literally turns the world upside down. It also is a very useful tool to learn more about our alignment in the field of gravity. A good portion of body awareness is necessary to find a nice straight shape.
"The line is not holy! It is just another pose." (Elad Sadeh)
Though this is definitely true, working towards that beautiful straight line is a great process of raising awareness, mobility and balance.
In this workshop we will go through a "checklist" from the ground to the tip of our toes. Some details are important for a healthy sustainable practice, some help with the balance, some increase comfort and stability, and some just make it look more pretty 😉
You do not need to be able to hold your handstand for more than 10 seconds, and do not need a nice alignment (yet 😉 ) to join this workshop. But being able to kick up (or any other way) into it will be necessary.
Date
Saturday March 28th 2020
5pm – 7pm
I scheduled it for 2 hours because the last 2 online sessions went over time. This shouldn't be the case this time. But it will also depend on the number of questions you have at the end 😉
What you need
You will need to find a good space in your home where you don't have to be afraid to kick something or someone or fall onto something. It would be great if you a wall (or door) for some exercises to help with the balance. Furthermore a yoga mat or something similar to do laying exercises, and a little bench/chair or something like that.
For all the exercises there are options that can be done alone, but doing it with a partner is nice and can be very helpful.
Technology
The session will be online of course. I like to use zoom for it, as it allows me to see you as well (if you activate your camera) and get a feeling for how you do with my instructions and guiding.
After signing up, you will receive a link to join the session. You do not need a zoom account.
SIGN UP HERE (the form is also embedded below)
Please be ready to join the zoom meeting about 5 minutes before the session starts.
Price
The suggested price for the session is 15-20€ per person. However I offer to join for free, to make it available to those of you who lost (most of) their income in this current Corona crisis (like me). So basically you can choose to donate what ever feels right/appropriate for you.
Paypal: paypal.me/MitoMonkey
Bank transfer:
Michael Flohrschütz
IBAN: DE10 2004 1133 0400 5955 00
---
Looking forward to move and train with you!
(Photo by IshinePhotography.me)
---
Sign up form: https://form.jotform.com/200856379549368
---
Contact form if you have any questions or feedback: