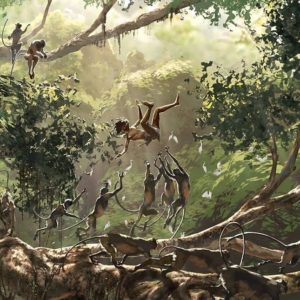 Fancy a little excursion out of the house, into the green, and play with a bunch of monkeys and other animals?
This is an outdoor training session. Online, live, together and yet with the requested distance (like the animals in a zoo).
I will guide you through various animal moves and other fun bodyweight training exercises.
This should be a lot of fun! I am really looking forward to monkey around with you.
Don't worry about other people seeing you. Just put on your monkey face (or your face mask) and pretend they payed to watch you.
Maybe you can even collect some donations in a hat if they enjoy watching the anmials 😉
You can always just turn your camera at them and show them to us if they make a funny face. Then we can all stare at them in return.
---
No experience required. Only an open mind and a lot of hair on your back, or horns, or wings, or … what is your favorite animal?
All you will need is a device with mobile data, (a screen and a speaker/headphones will probably also be helpful 😉 ), a patch of grass and a tree with a branch you can hang on.
Costs
The suggested "donation" for the session is 5-10€. However, if you are in a financial crisis atm you can also pay less.
Thank you for supporting me and appreciating my work!
Either: paypal.me/MitoMonkey
or bank transfer:
Michael Flohrschuetz
IBAN: DE10 2004 1133 0400 5955 00
(If both those options do not work for you, please contact me I'm sure we'll find a solution.)
No registration required for this session.
Just click the following link 5-10 minutes before the session:
https://us02web.zoom.us/j/89045129425?pwd=aklxQk5CVWJWSW9RYTFxS21Od01KQT09
Password: chResqUi
---
Looking forward to monkey with you!