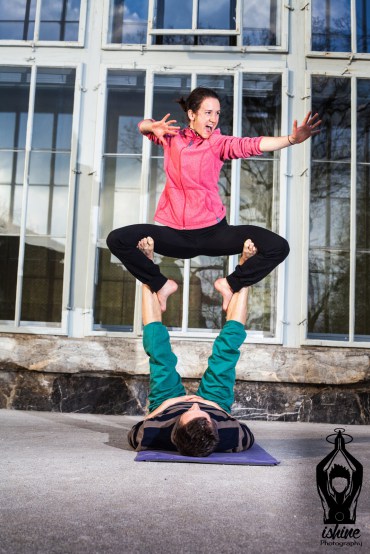 Nur mit einer soliden Basis kann man auch hoch hinaus fliegen.
Dieser Workshop bietet allen Interessierten und Anfängern einen sicheren, informativen und freudvollen Einstieg in die Welt des Akroyoga.
(Photo by Ishine Photography)
(For English please use the translator in the sidebar, or send me a message via the contact form below. All workshops can be taught in English on request.)
Inhalte: Alle wichtigen Grundprinzipien und -Begriffe des AcroYoga werden anschaulich und erfahrbar erklärt und geübt. Besonderer Fokus liegt auf einer sicheren und nachhaltigen Praxis, sodass ihr danach auch sorgenfrei an Multi-Level Workshops, Jams usw. teilnehmen könnt. Aber vor allem soll es Spaß machen und das spielerische innere Kind hervorlocken.
Auch wenn Du schon einige Basispositionen kennst rate ich klar dazu mindestens einmal so einen ABC Kurs zu machen um eine komplette Einführung zu bekommen, und ein paar neue Tricks wirst Du bestimmt auch lernen 😉
Wenn Du mehr darüber erfahren willst was Akroyoga ist und warum Du es ausprobieren solltest, hier ein Artikel von mir: Akroyoga – Jeder kann Fliegen!
Du kannst gerne alleine oder mit Partner kommen.
Ablauf: Warmup, Partnerübungen, Umkehrhaltungen (insbes. Kopfstand), Partner Akrobatik Basiswissen, Cooldown (meist Thai-Yoga-Massage)
Termin
Samstag 7.3. 
10 bis 12:30 Uhr
Kosten
25€ bzw. 20€ für Jim EV Mitglieder
Ort
Turnhalle der Grundschule an der Jenaer Straße 3, 80992 München-Moosach.
https://drive.google.com/open?id=1bVJF4kcVtZN8b1ZnwKLZEOgp-qk&usp=sharing
Auf der Karte ist genau der Eingang markiert.
Anmeldung
Falls das Anmeldeformular nicht korrekt/vollständig angezeigt wird klick einfach hier: https://form.jotform.com/200565522315346
Fragen?